Introducing the Creative Invoice Template
In the past few months we have been busy working on infrastructure improvements to Hiveage—changes that might not be visually obvious to you, but will be reflected in app performance, reliability and security when they go live. But the year is coming to an end, and we wanted to leave you with an update that you can actually experience. Thus, the Creative Template!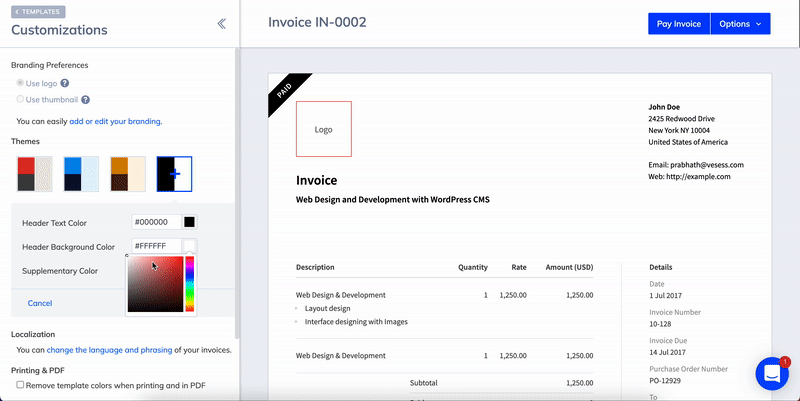 We understand that it is important to represent your brand consistently in your documents. Ideally this wouldn't be limited to your marketing material but extended to other statements such as invoices and estimates too. This is why we introduced customizable templates in Hiveage a while ago, alongside our localization options.
In our previous newsletter, we requested your input on possible customization options. As the first outcome of that work, we have now added a new template into the mix, one that is a bit unconventional in layout but still looks professional and elegant. The Creative template has three pre-set color themes, but also lets you pick and choose the colors that would complement your logo and branding.
The Creative template is currently in public beta, and available on all full-featured plans. As explained in our knowledge base article, it can be activated from Settings > Account Customizations > Templates.
As we write this, one of the countries we work from (The Netherlands) is in lockdown, and a few others have various restrictions imposed. The virus has proven to be more resilient than we initially anticipated, but entrepreneurs and small business owners around the world soldier on. We at Hiveage will always be at hand to help you in your journey.
Towards that end, we have some exciting plans for next year—especially for creating a community of like-minded entrepreneurs who can learn from each other. We'll share more details on that soon.
We wish you a Merry Christmas 🎄 and happy holidays! ❄️
Join thousands of business-savvy entrepreneurs on our mailing list.
Curated emails that'll help you manage your finances better.