Introducing Customizable Invoice Templates
Your invoices and estimates are an extension of your brand. Hiveage has options to customize them to include your logo and thumbnail, and to be in your own language—we support more than two dozen languages, with more on the way. Today, we are happy to introduce the next step in how Hiveage lets you control the look and feel of your invoices.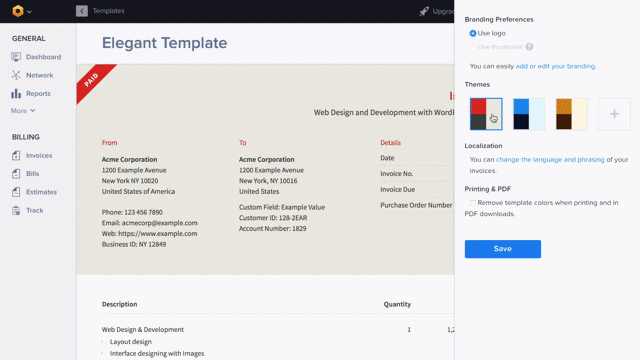 The new "Elegant" template in Hiveage comes in three beautiful preset color themes, and we also let you pick and choose your own colors to create your own theme. Perhaps you'd like the invoice to adopt the colors of your logo, or secondary colors that compliment it: either way, creating a custom theme for your invoices, estimates and payment receipts takes only a few seconds!
A better way to manage your finances
With Hiveage you can send elegant invoices to your customers, accept online payments, and manage your team — all in one place.
The Elegant template has a slightly different layout too, with custom fields for your own business and the client displayed in the header of the invoice, just under the From and To fields. This helps you better organize and communicate important details, and also makes it easier to meet legal requirements in certain regions.
The Elegant template is currently in public beta, and available on all full-featured plans. As explained in our knowledge base article, it can be activated from Settings > Account Customizations > Templates.
We will be introducing more customization options in the future, including layout and typography changes to offer even more control over how your brand is represented. If you're on a legacy custom plan, we invite you to upgrade to a full-featured plan to take advantage of these new features. And if you are not a Hiveage user, note that we still have free invoice templates you can customize for Word, Excel and more.
As always, we welcome your feedback and suggestions!
Join thousands of business-savvy entrepreneurs on our mailing list.
Curated emails that'll help you manage your finances better.