Changes to Improve Email Delivery
Getting your invoices into clients' inboxes is a critical step when it comes to getting paid on time. This is why we keep a close eye on the delivery rate of our notification emails. Today's update makes an important change to our email process to improve email delivery for all our customers.
Previously, when sending invoices, Hiveage emailed your clients on your behalf, using your email address. There was a risk of these emails being marked as spam or rejected by receiving mail servers, as the originating server is different from the one registered for your domain. In order to prevent this from happening and ensure that clients receive your invoices, we enabled the option to add SPF and DKIM records—they indicate that Hiveage has the authority to use your email address. Adding these records, however, isn't always an option for many Hiveage users, as they could be using a service like Gmail.
Earlier this year Yahoo and AOL made changes to their DMARC policies so that emails sent by other services like Hiveage using their email addresses were rejected by the receiving mail servers. It wouldn't come as a surprise if more email providers followed this trend. So far our response has been to ask you to change the email address used in Hiveage, either to one from a domain you own, or to one from another service like Gmail. This was neither convenient nor future-proof.
A better way to manage your finances
With Hiveage you can send elegant invoices to your customers, accept online payments, and manage your team — all in one place.
To accommodate Yahoo and AOL users, and to improve email delivery rates for everyone, we have now made a change to our email delivery method: from today onward, all notification emails will be sent out using a single address: [email protected]. (Important: See update below.) Your email would still be added as the Reply-to address so that, if a client replies to an invoice notification, you will receive the message.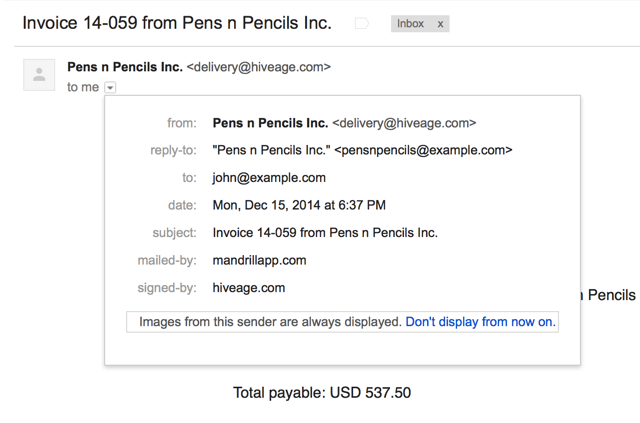 This change is part of our ongoing efforts to make Hiveage serve you better. If you need any clarifications about the new email delivery process, please send us an email, and we'll help you sort things out!
Update: Based on your feedback, we have brought back the option to use your own email address! This feature is available with the Hiveage Plus module, and can be enabled from Settings > System Preferences.
Join thousands of business-savvy entrepreneurs on our mailing list.
Curated emails that'll help you manage your finances better.