5/5 Small Business Interview: Help the Community Through Business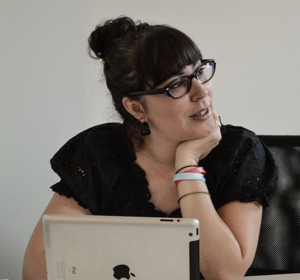 Heavy Heavy is a creative studio comprised of storytellers, designers and architects of ideas that is based in San Antonio, Texas. Apart from working on design and development projects, Darby, Jeanette and Erik also run Keep SA Real, a community arts and culture project that helps put the city on the map. In this 5/5, we talk to them about what it's like to be a web based SME in such a unique place.
Tell us the Heavy Heavy story (perhaps starting with the name)! How did the three of you come together?
The name Heavy Heavy came about from a mix of music and meaning. We think it's important to treat everything like it's of the greatest importance, with great care and consideration – heavy. And, our Creative Director Steven Darby is a big fan of J Dilla. There's a song called "Heavy" on the Champion Sound project he did with Madlib that made quite an impression on Steven. We all have music backgrounds, so it made sense.
It's our personal interaction with our clients that make us who we are.
We all have varied personal and professional backgrounds. Erik Ford, our Digital Director, is from New York. I am from San Antonio, but spent half of my life in Los Angeles. And, Steven is also a San Antonio native who has lived in different areas of the country. We just happen to converge in San Antonio at the same time. Erik and I had a design and content studio. Darby (that's what everyone calls him) was doing his thing as a graphic designer. The guys met up one day and really hit it off. After exchanging services, we thought it was a smart idea to join forces and open up Heavy Heavy, a creative studio that specializes in web, identity and content. Erik likes to refer to us at the "superfriends". Geeky? Most definitely.
What's it like being a design firm with only three employees? Do you guys have plans to grow as you go along, or do you want to stay small?
We kind of love it, actually. We are the three co-owners that each bring something different to the table. It's our personal interaction with our clients that make us who we are. We do plan to grow, but it will happen organically. We also want to help others out who are starting in this field, as well. We'll get bigger but we'll always be able to see our feet.
A better way to manage your finances
With Hiveage you can send elegant invoices to your customers, accept online payments, and manage your team — all in one place.
What's the best thing about being based in San Antonio, and how is it different from being a design firm in LA, NY or another large city?
Being based in a smaller market/city really doesn't play that much of a factor in who we work with. Our clients are local, and national. But, it is really great to be a part of the tech movement that is currently taking place in San Antonio. We're thrilled to be working out of Geekdom and assisting local startups to succeed and take root in this amazing city.
Tell us more about Keep SA Real. Why is this project important to you?
Well, for those who are unfamiliar with our area, San Antonio has long been in the shadow of Austin. For years the story has been that Austin has all of the cool people, jobs and lifestyle. Like I said earlier, that is starting to change. The people of San Antonio take great pride in their city and have no qualms about showing it. Yelling it, really. The art scene here is big. The cultural scene here is huge. And, the people of San Antonio are real. There's no fake happening here.
Keep SA Real came about because we wanted to do something for our community. San Antonio has so much to offer and it's the people here who make this city what it is. We want to celebrate that.
How did you guys discover Hiveage, and to what kind of freelancers or SMEs would you recommend it?
When it came time to consolidate infrastructure, we knew we had to make a decision about which billing solution we felt would best meet our needs. Since we are intentionally starting off small, it was important for us to choose a product that would easily scale with us and we unanimously felt, and still feel, that Hiveage is that product. And, because you can scale all your services as needed, it's great for studios and solos, alike.
---
5/5 is your chance to get to know awesome Hiveage users from all around the world. In each issue, expect five questions, five answers, and a load of insight from freelancers and small businesses just like you!
Join thousands of business-savvy entrepreneurs on our mailing list.
Curated emails that'll help you manage your finances better.