Now get paid via WePay and Google Wallet!
At Hiveage, one of our primary goals has always been getting you paid, and that's what these two new payment gateway modules are about as well. Here are how the two gateways stack up.
WePay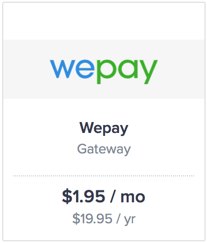 WePay has no setup fees, monthly fees, minimum charges, validation fees and takes only 2.9% + 30¢ for credit card payments and for 1% + 30¢ bank payments. Best of all, it allows you to charge the processing fee from your customers, meaning that you lose no money at all on each transaction. Earnings can be withdrawn to your account whenever you want, with a few restrictions on how much reserve cash you must have in your WePay account at all times.
For more details, please read the Knowledge Base article on accepting payments via WePay.
Google Wallet
Google does not charge any setup fees and keeps only 5% or 1.9% + 30c (USD) of every transaction, whichever is more beneficial to you. With some of the lowest fees in the business, and the ability to withdraw money via the service's own MasterCard®, Google Wallet is a very attractive option for businesses that are just starting out.
A better way to manage your finances
With Hiveage you can send elegant invoices to your customers, accept online payments, and manage your team — all in one place.
Both these gateways are now available via your Hiveage account's Upgrade page. Feel free to take them for a spin and let us know what you think. As always, we're here if you need any help.
Join thousands of business-savvy entrepreneurs on our mailing list.
Curated emails that'll help you manage your finances better.