Introducing Hiveage time, expense and mileage tracking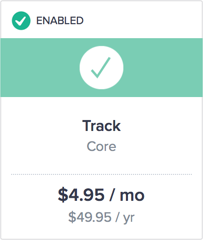 With CurdBee, and now with Hiveage, we've always liked to implement features that our users request. That's why this is a good week for us: we're really excited to announce that our long awaited Track module is now ready for use!
Track helps you keep track of everything, whether it's time, expenses or mileage.
Take control of your time
Traditionally time tracking apps have been expensive, clunky, or both. Hiveage Time Tracking changes that, by offering you an affordable time tracking module that sits easily in the Hiveage interface that you have come to know and love. Small and easy to work with, Hiveage Track has a timer that actually ticks away in your browser while you work, helping you keep track of what you do.
Oh also, it's totally flexible! You can pause one task, and start another, before hopping back and editing an item you've already entered in your timesheet.

But, we've probably said enough. Our Track module, just like all our other modules, is free till May 1st 2014, which means that early adopters of Hiveage like you can login and try it out, risk free!
A better way to manage your finances
With Hiveage you can send elegant invoices to your customers, accept online payments, and manage your team — all in one place.
Engage with your expenses
Staying within budget is never easy, but with our new Expense Tracking feature, watching your dollars and cents may not be as hard as you think. Enter your expenses as line items (just like in any Hiveage invoice!) and Hiveage will tally them up for you at a moment's notice.

The best part? Since entering expenses is so easy, you won't be able to make excuses and put it off! Bought something? Just fire up your browser and enter it right away.
Manage your mileage
Whether you're trying to save some cash or you're concerned about the environment (or both!), keeping track of where your fuel is going is always a good thing as well, isn't it? Our new Track module makes this super easy.

Just like Time Tracking, Mileage Tracking employs the same clean, elegant Hiveage interface that you use everyday, meaning that incorporating it into your workflow will be trivial.
As we said earlier, all these features come free with the Hiveage Track module till May 1st 2014. So, what are you waiting for? Take it for a whirl!
Btw, if you decide you'd like to keep using it after that, it'll only set you back just $4.95/month, a very reasonable monthly expense that you can keep track of using the module itself! :)
Hiveage Track is just another step on our journey to build the ultimate online invoicing tool for freelancers and SMEs. We know we're not there just yet, but we believe that with your help we're well on our way towards that goal. Thank you for sticking with us from CurdBee, right through to Hiveage. We're excited to bring you the features you want, and we sincerely hope that Track is one of them!
As always, your feedback is very important to us as we continue to add the features that you need to Hiveage, so if there's anything you'd like to say about Hiveage Track (or anything else!), we're always listening.
Join thousands of business-savvy entrepreneurs on our mailing list.
Curated emails that'll help you manage your finances better.